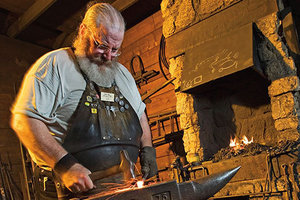 The 2014 Hammer In event celebrates the 50th anniversary of John Deere attractions.
FEATURED NEWS STORY
According to a recent press release, the John Deere Historic Site is hosting Hammer In 2014 on August 2nd and 3rd to celebrate the history of blacksmiths and other trades.
John Deere has a global presence, but the company began when it created the first self-scouring steel plow in Grand Detour, Illinois, more than 177 years ago. This event allows blacksmiths from around the Midwest to come together at the John Deere Historic Site to offer demonstrations, sell their goods, and familiarize the community their long-standing trade.
Other tradesmen, like basket weavers, broom makers, trappers, and more will be also showing their talents. The pieces made at the event will also be available for sale.
The event will take place from 9am to 5pm on Saturday, August 2 and Sunday, August 3. Attendees will be able to observe how blacksmiths and other trades utilize their craftsmanship to deliver art and everyday goods.
Brian Holst, Manager of the John Deere Historic Site, said, "We are proud to host another Hammer In event. It provides a unique and exciting way to educate people about the historical significance of the blacksmith trade. Blacksmiths were essential to the pioneer way of life and we look forward to celebrating their history. We enjoy demonstrating the trade and art and celebrating a skill that has a deep history, yet is still active today."
Admission is $5.00 for 12 years and older, and kids under 12 are free. Guest will also be treated to a variety of food vendors and a charity auction that will be taking place at 1pm on Saturday, August 2. All profits from the auction will be distributed between two event sponsors, the Upper Midwest Blacksmith and Illinois Valley Blacksmith Associations, for their scholarship programs.
The first John Deere Historic Site Hammer In event was held in 2004, including 75 blacksmiths and thousands of attendees from around the country, and has been hosted every year since. This year, the John Deere Historic Site is celebrating its 50th anniversary. In honor of this milestone, a team of blacksmiths made a steel statue replicating the original John Deere plow, which will be revealed at the event.